Earlier this year I experienced a double irony. Barely a couple of hours after it was announced that Margaret Thatcher had died I went for a job interview. Nine days later I went for another job interview at the same time Thatcher's funeral was taking place. It would be another few weeks before I went for another interview this time with no significant coincidence. It's ironic of course that I went for job interviews on the two key moments at the end of Thatcher's life because of course it was dear old Maggie who made thousands unemployed during her eleven years as Prime Minister and now she had passed away here I was with two opportunities to return to employment. Regrettably I was unsuccessful at both so perhaps it was in fact ominous.
What today's generation of Tories are doing certainly doesn't help and now we have those who want jobs but can't get jobs being further penalised for
being lazy
. The Tories want to make those who can't find work go out and spend hours in crap jobs just to earn their benefits. We've probably all heard the recent and shocking case of Cait Reilly who was made to give up the more meaningful voluntary work she was already doing at a museum to work at Poundland stacking shelves - just to earn her Jobseeker's Allowance! It is truly patronising that the UK Government can descend to this level because many of us who want to work are all too eager to go and give our time and energy to volunteer for charities other organisations. We like going out and giving our services in those hours because the alternative is hardly pleasing - sitting at home feeling bored and useless.
Four years ago when I had been claiming jobseekers for several months I found my niche as far as voluntary work was concerned. I was the receptionist at the Furniture Project in Newton Stewart booking collections over the telephone, serving customers and arranging deliveries and pricing new items of furniture. There was plenty to do and it was great fun to be in the company of the people I worked with. I worked there five days a week doing all day (except Wednesday and Thursday) not because I had to but because
I wanted to
. It certainly gave me the feeling that I was earning my jobseekers allowance as I felt incredibly useful. Times changed, I got a job as an admin officer for six months as part of the Future Jobs Fund and the Furniture Project in Newton Stewart sadly closed soon afterwards leaving only the nostalgia behind and an empty premises. I am now working for an animal rescue charity in their shop in Newton Stewart. I imagine many jobseekers feel as I do the need to work as volunteers even if they have their heads down looking for work every day.
When the White Paper comes out in less than a month's time my hope and expectation will be that the SNP spell out exactly what could change in the whole benefits system for jobseekers like myself. Although I hope to have a long-term job which I'm comfortable with by the time we become independent (after all it is a long time to wait for the Spring of 2016) it is more for others in my situation that this matters. The Scottish Government need to explain that they will treat jobseekers with the very dignity they need. For one thing the demand to 'work to earn benefits' has to go. In its place the new Scottish Department of Work and Pensions should encourage its claimants to do voluntary work that will help them find paid employment and they should liaise with all manner of employers to create more opportunities for volunteers. Of course many, like myself, won't need encouraging whatsoever, we want to be useful. Jobcentre staff also need to be fully informed of all the different services and training available to jobseekers to help them find work. I found out about a number of training opportunities during my time unemployed but not until much later than I could have found out. In August I completed a Pitman Training course in Microsoft Excel but I definitely think that this opportunity should have been highlighted to me a long time ago.
Currently a trip to the jobcentre means proving you're looking for work, signing on and the staff saying 'here are the latest jobs....see you next time (or hopefully not)'. Not so much 'Job Centre Plus' as 'Job Centre Minus'. It's fortunate the jobcentre staff I usually meet are very pleasant and sympathetic. But many others feel they don't get the same respect from other staff. I wouldn't blame the jobcentre staff themselves for what they can't provide I feel it is much more of an institutional problem. The DWP come up with this system and the staff follow whatever is on their remit. Currently, I'm being told I will need to start working at the local seafood factory as that is where I am capable of working. But I have a degree in Information and Library Studies. Not only does the job at the local factory not involve any qualifications but it is also seasonal and I know from the last two years that come February I will be back on the dole. Not where I want to be at all. Which is why I am moving to Edinburgh as soon as I have found somewhere to live up there. If I'm going to have a temporary job at least being in a bigger city will make it easier for me to move straight into another once I get laid off.
What the White Paper has the opportunity to do is envisage an alternative jobcentre experience. It needs to not just help find employment but to help the jobseeker in becoming more employable. I already go to a job club every Thursday at the local community centre but it would help to incorporate a drop-in centre at the jobcentre where every weekday people access different resources for job searching, people share information about vacancies being advertised and people can get all the help they need from professional staff. The staff should be able to dedicate their energies to finding out what different individuals should consider doing within their capabilities to strengthen their competitiveness in the job market. Interview practice is very important and it is my belief that jobseekers should have regular practice. The longer you're out of a job the more important this is especially if you're not being interviewed very often. It's like in any sport, to be at the top of your game come match day you have to practice each week or so and certainly in the days leading up to the match. It should be the same with interviews. The more you have the more confident you will feel. There should also be support available at anytime for CVs, application forms and covering letters. And there wouldn't be a shortage of people wanting support for all these things so I think it would a would be perfectly viable and a worthwhile investment. Apart from anything else the social environment of a drop-in centre would help the jobseeker to go away feeling more encouraged either by staff, fellow participants or both lots of people.
"Aye, gie us a bloody job!"
Of course we already have quangos like Skills Development Scotland and their centres across the country. But again it would be handy to see this integrated into a new jobcentre service for Scotland. We may have to pay more for some of the integration. But wouldn't we rather pay more for something if it does more to help our fellow citizens get the very jobs they need? If it means a stronger and more confident work-force that could improve the economy. If it is seen to be crucial in bringing down unemployment it will gain a lot of praise from all walks of life. Then again there will be savings made from not being attached to Westminster. With somewhere around £1000 per head being wasted on Trident it would be far more sensible if this money was poured into community projects across Scotland. That's mostly for another topic in this blog. But for West Galloway that could mean an extra £30,000,000. Spread that across the lifespan of Trident that's still about £1 million a year. That could go a long way to improving the service provided by the jobcentre. Indeed it could be more than enough to reopen the jobcentre in Newton Stewart which would save jobseekers in the town from having to travel to Stranraer to open a new claim. And having it open every weekday with the provision of those additional services to help jobseekers the social benefit of such reforms could be invaluable. It's time for Jobcentre Plus to earn the
Plus
!
Labour may want a better welfare service. But they are pinning their hopes on one Ed Miliband winning enough votes at the 2015 general election. Even a Labour government in Westminster can't be trusted with providing a good service for jobseekers, it was Labour that was responsible for closing jobcentres across the country including in Newton Stewart in 2006. A Yes vote for Scottish independence in 2014 will mean Alex Salmond, Johann Lamont, Ruth Davidson, Patrick Harvey, Willie Rennie, Margo McDonald and two former Labour First Ministers Jack McConnell and Henry McLeish all getting round a table. Getting round a table with representatives from different areas of Scottish society, including careers advisors and union reps, to come up with a coherent vision of how to take Scotland forward in the early years of independence and what could be enshrined within the new constitution that helps substantially with its delivery.
What will we have following a Westminster victory in 2015? A meeting round the cabinet table with the only non-politician being Larry the Cat making the occasion appearance to make his voice heard on matters such as catching the rodents in Number 10. Nothing new there but naturally the politicians would want to conceal the truth about where those rodents can actually be found and that two of them are next door at Number 11 (including the ginger one)!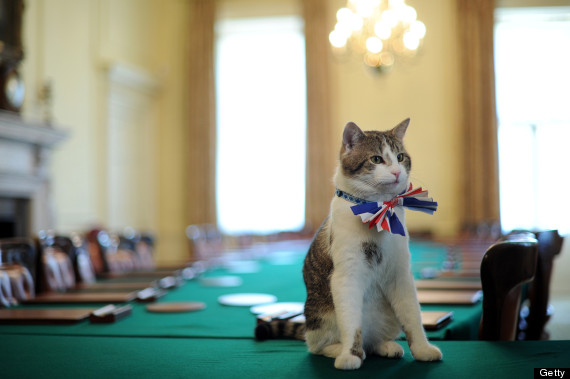 Larry the BritNatCat: "Where did all the rodents go?"

But joking aside which of those two scenarios is more likely to deliver a radically different and consensual approach to the needs of the Scottish people free from the need to appease the wealthy people of inner London? I feel the one which harnesses a once-in-a-generation opportunity to discuss, across the political spectrum, Scotland's transformation into a new country. Rather than the one which discusses Scotland to the point of party interests and no further.
Only a Yes vote will be adequate in ensuring Scotland moves forward and the problem of unemployment can be tackled closer to home.