Very rare is it that
Scottish
and
British
are effortlessly interchangeable the way
English
and
British
are on so many occasions. But as I write this, Team GB are taking to the ice to throw some heavy stones along the length of a rink towards what I hope will be Olympic glory. With the lads skipped by Lockerbie's David Murdoch and the lasses skipped by the stunningly attractive Eve Muirhead (sorry I couldn't resist the comment) the curlers may as well be called Team Scotland which is what they are in the World and European Championships.
Eve Muirhead and her rink, Team Scotland/GB
I can remember in 2002 the jubilation that followed the team's success in Salt Lake City. Everybody was saying "this is Team Scotland" and there were saltires a many in celebration. I myself agreed, this is a moment for the Scots to be proud of but I felt that not as a Scottish nationalist so much as someone who preferred the idea of a united island country called 'Great Britain'. Yet that wasn't in antipathy towards Scottish nationalism because I didn't really have a clue about Scottish politics. I knew there was a devolved Scottish parliament, I can remember that being a big thing in 1997 but if anyone were to ask me 'Who is Alex Salmond?' I would likely have shrugged my shoulders and said "One of the MSPs who campaigned for devolution" and nothing else. It was only in 2006, a year before the SNP's first term, that I started to read up about and follow the Independence movement. But it has little bearing on my sporting allegiances. I may support Scotland in the 6 nations but in the footy friendly last August I supported England because that's what I normally do in football and with some competitive games still left in the qualifiers each win mattered at least mentally. My sporting allegiances vary because put bluntly, your country is great at some things, alright at others and crap at the rest.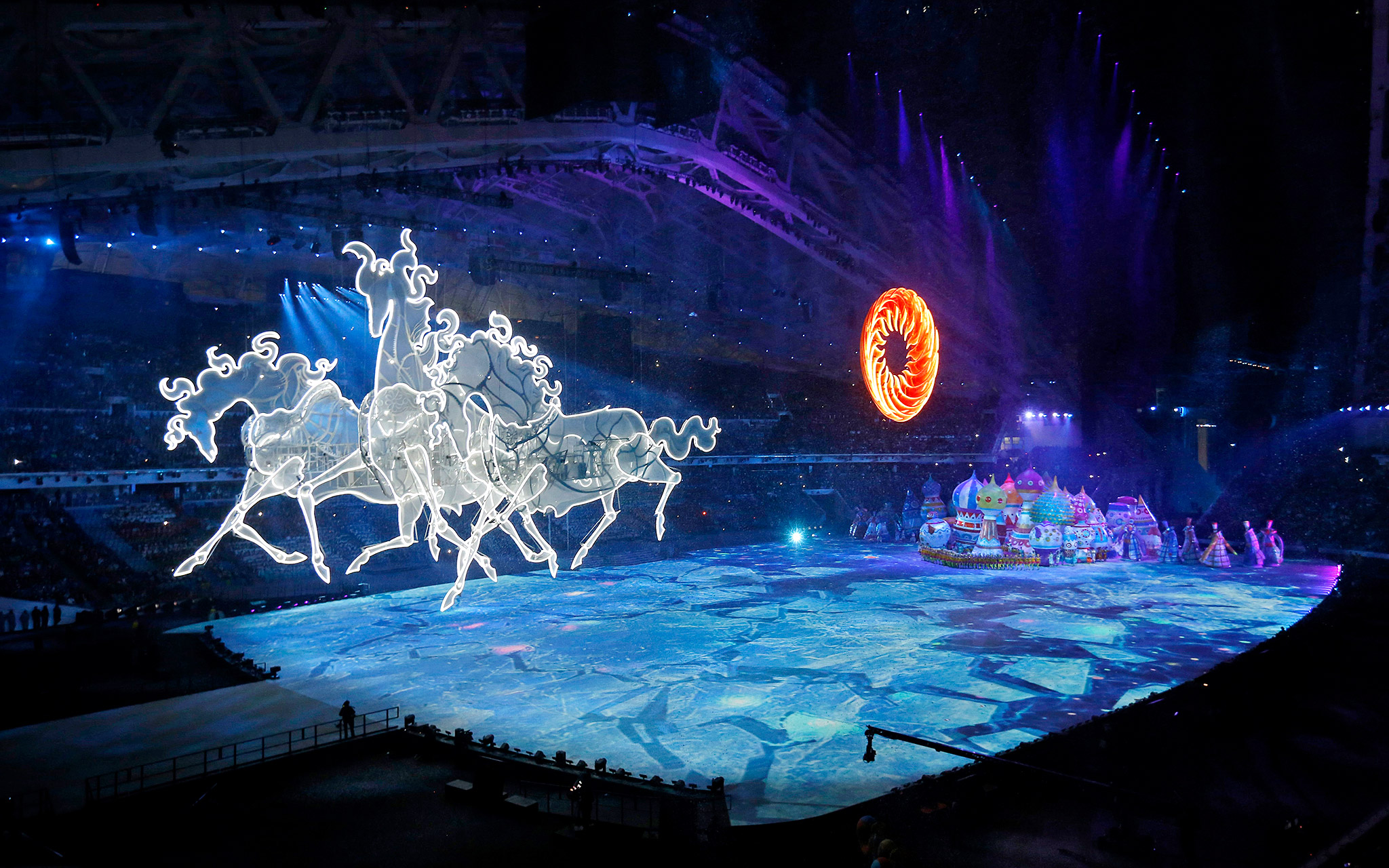 The Opening Ceremony at Sochi. I rated this higher than the one at London!

As Cameron shamefully tries to use the memory of London 2012 as political propaganda ahead of the referendum many of us enjoy the sporting achievements he alludes to with a clear mind. In what I have dubbed
Velorome-gate
he made his big 'we want you to stay' speech on the day of the opening ceremony of Sochi 2014, the first of the big quadrennial sporting events this year. Thank goodness this is not an Olympics that will be dominated by British jingoism the way the London Olympics were so we can actually the enjoy the sports unmarred. Yes Scottish independence will mean more Scottish athletes getting the chance to compete, particularly in team games and English athletes might get opportunities where Scots athletes have vacated. Who knows, there might even be an English curling team. And yes Scottish independence will result in certain athletes who normally compete together no longer in the same team. If that latter point is of Earth-shattering importance to you then by all means vote No. But the independence debate is about a much bigger picture regarding how we are governed so sporting events for all their glory mean little when there are issues of inequality, nuclear weapons and out-of-date democracy in Westminster to address.
David Cameron delivering his Velodrome-gate speech

So I'll put the politics to bed now because we are now witnessing the wonderful Winter Olympics. Congratulations to Jenny Jones for her Bronze Medal in the snowboarding and good luck to the others still competing.
Even though I enjoy watching the Summer games no less as they feature so many sports I won't otherwise have the incentive to watch, it is when the winter games are on that it really strikes a chord with me. The breath-taking scenery, the elegance and thrill of moving on ice, the gravitational speeds many athletes reach and, on a personal note, the presence of so many Nordic competitors makes this all the more exciting for me. Not to mention of course the local talents in the curling ring. The fact that by blood I'm far more Norwegian and Swedish than Scottish isn't going to make me support any of the Scandinavian countries over Scotland/GB in the curling but every time a downhill skier from Norway, my father's country, takes to the slope I will be watching even more eagerly. I have some fond memories of going to Scandinavia as a child but especially the one and only occasion we went during the winter when I was 7. We're talking a long time ago before some of the athletes at Sochi were even born. I remember going skiing on the slopes near Oslo where unfortunately I was too young to try the longer slopes. I remember going up to the ski jump at Holmekollen where the Olympics were held in 1952 (when my father himself was 7) and going in the simulator taking me through the experience of a bobsled run. Of course, they take skiing very seriously in Norway. In the middle of winter it's how people 'walked' from place to place. So it would be no surprise to see the Norwegians occupying most of the podium places in the Cross-country skiing but there is also 'Team Scotland' here too s all of Team GB's cross-country skiers are from the Huntly Nordic Ski club in Aberdeenshire.
Hillend dry ski slope, near Edinburgh.
Scotland may never host the Winter Olympics unless of course the gulf stream conveyor switches off through climate change and we enter another Ice Age in which case if it's going to host the Summer Olympics as well they might as well host them together. Or unless it would acceptable to create artificial snow in which case Inverness, with Aviemore as the location of the slope sports, would be the ideal host city. Or unless Inverness and Bergen could be joint hosts, the latter used for the slope sports, the former for the ice-rink sports but even then Bergen isn't exactly the coldest city in Norway. However, Scotland's contribution to winter sports could be enormous. We were told yesterday when Jenny won her snowboarding medal at the ripe age of 33 that like other major successes the sport in question would be granted an extra injection of investment to grow participation. This should happen anyway irrespective of major triumphs but I have to say with the Winter Olympics happening and with the Hillend dry ski slope at the other end of my bus route here in Edinburgh I might just consider getting off my backside and getting aboard the Number 4 to try out some snowboarding. Who knows where it leads but you heard it here first!