It's the moment you dread. A little known or unremarkable country winning an honour that really belongs to someone else. Like Greece winning Euro 2004. You'll see these nations biding for something and feel insecure that they're even in the process. But you just don't expect the worst.
Yet I could have dropped whatever I was holding when I heard live on radio the announcement of the 2022 FIFA World Cup hosts. Minutes before, I had been left disappointed that England lost out to Russia in the bid for 2018. Now I was left in complete disbelief that Qatar had been given the right to host the 2022 World Cup ahead of Australia, Korea, Japan and even the USA. At least Russia has the size and international profile to match a competition of this scale but Qatar - this was probably the moment people had even first heard of the place.
It got you wondering, like with the allegations in the 2018 bid, if Qatar had also won hosting rights on the back of bribery. I have always believe they did. And now the Sunday Times has uncovered evidence that proves my and many other people's suspicion. That FIFA executives were involved in a major instance of corruption. Because there is no sensible reason on this earth whatsoever for Qatar hosting the World Cup and even if it was only a 22-man committee that decided on Qatar it is rather telling that so many of them managed to back this tiny emirate.
Qatar doesn't even need the World Cup, it doesn't need it for any great economic gain, there's already plenty going for it as a country of only 1 million people. It is a small and insignificant nation that lacks the image that bigger countries have and that appeals to fans of the World Cup. Italy, USA, France, Japan, Germany, South Africa, Brazil - these are all countries people know and love and want to visit. Who's particularly interested in visiting Qatar? It has hardly any history to make it a remotely interesting place outside of it's material artificial façade. It has no football culture and most or all of the stadiums will have to be built from scratch. Of course it's got the money to sort all that out and it can easily put in place a strong infrastructure, one thing Qatar would have to its credit. But the experience of being in Qatar for the World Cup both as a player and as a fan would be incredibly uncomfortable. If it's not rescheduled for the winter at considerable disruption to domestic seasons across the world it would have to take place in the unbearable heat of an Arabian summer. Of course they would have to install air conditioning but it still may not be adequate and playing standard could suffer considerably as a result. For fans the time before and after each match would also be exhausting and alcohol can only be bought in specific fan zones. If this tournament takes place here in a country with so little a soul where few people will find any real joy from the experience it will be a real denigration of this most wonderful of tournaments.
But what is really getting the international community to take note of this controversy are the human rights issues. Migrant workers. They come from Nepal. They're offered a better future but they arrive at Qatar, have their passports confiscated and are
forced to work in labour camps
so the new venues can be constructed quickly. In a climate they're far from used-to. The total squalor of the conditions they face amounts to nothing short of slavery. And there's one death a day. Think of the misery this is causing not just themselves but the families they've left behind in Nepal. They can't even escape and return home! To describe this horrifying con where migrant workers were legally trapped having been assured of good salaries as a human rights abuse is possibly an understatement. That FIFA is allowing the World Cup to be held here shows just how far the organisation has sunk. If the World Cup continues to be held here, I for one may refuse to watch it. Had the decision to host the World Cup been made by representatives from all 209 countries then it is very unlikely Qatar would have won.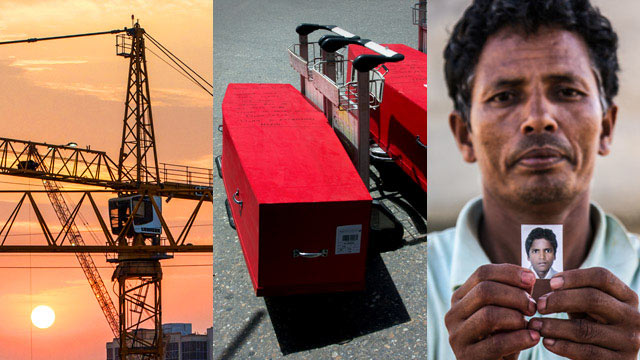 The ghastly plight of migrant workers in Qatar

Fortunately because it's still a whole eight years away, there's still time to move the World Cup to another country. Mexico is the country that hosted it twice with the shortest interval, 16 years. The second time came after Colombia was stripped of the right. The USA hosted it 20 years ago and in 2022 will have been 28 years previously, not far short of the time between when West Germany hosted it in 1974 and when they hosted it as a unified country in 2006 (32 years). America would have everything in place in time no problem, three years is probably the most they will need to prepare if Qatar could be stripped of the hosting rights. Korea and Japan who also lost out to Qatar will only have held it last 20 years previously though neither on their own. And Australia, the country that should have won the bid, would be a fantastic place to hold the World Cup. Although people love to go there for the sun it will be their winter so cooler but more pleasant for the players much like in South Africa. But would they have the stadia prepared in time? That will depend on when any announcement is made concerning World Cup 2022 being moved elsewhere. So either the USA, Japan or Australia for hosting the 2022 World Cup.
But not Qatar. This country does not deserve to stage the greatest show on Earth. Not now, not ever.